Edgar James Maybery
1887 - 1964
oil and watercolour artist, etcher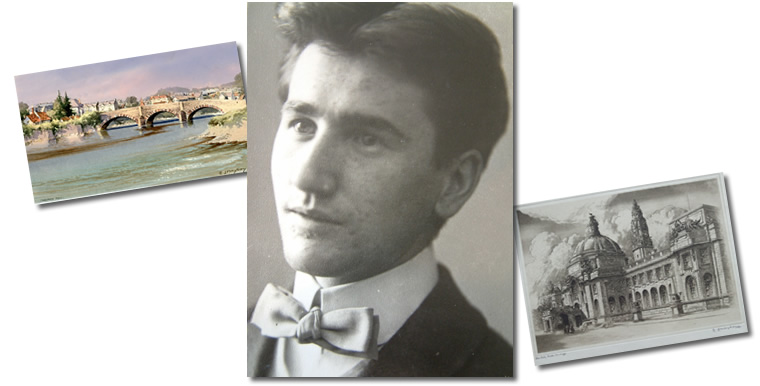 Edgar Maybery was born in Newport in 1887. His father, Francis, was a bootmaker and kept a shop at 154 Commercial Road Newport. His mother, Julia (nee Marshall), was Francis' second wife and twenty years younger than her husband. By the time Edgar was 13 years of age his father was sixty.
Edgar studied art from a young age and at sixteen was exhibiting his work. His studies were completed in London at the South Kensington School, and by his mid thirties he was a member of the Royal Cambrian Society and the Royal West of England Academy.
During the First World War Edgar served in the Royal Welsh Fusiliers where he spent much of his spare time sketching. It would be most interesting to see some of his works from this time. After his time in service, as a batman or orderly, he returned to Newport.

Caerleon was a short bus ride away from his home town, Newport, and he was often to be seen there painting views such as the square, the bridge and river, and the Hanbury Arms - mostly watercolours. He didn't restrict his travels to South Wales and the West of England, as his watercolours and oil paintings of many parts of the country testify.
He is probably best known, though, for his etchings - usually detailed views of buildings.
It would seem Edgar worked under other names including Miller and Stanton. This may have been for contractual reasons. We have included some paintings bearing these signatures and attributed to Maybery in our 'online gallery'.
We are currently trying to find out more about Edgar Maybery and would be pleased to hear from you if you can add to the above information, have any of his works not listed here or a picture of the artist. Please contact us by following the link at the foot of the page.
Alan Whitmore has kindly got in touch with us to tell us about the fortnight he spent helping Edgar Maybery in his studio as a twelve year old in the early 1950s. You can read his memories by following this link.
View Maybery's Paintings and Etchings

Paintings and Sketches Etchings