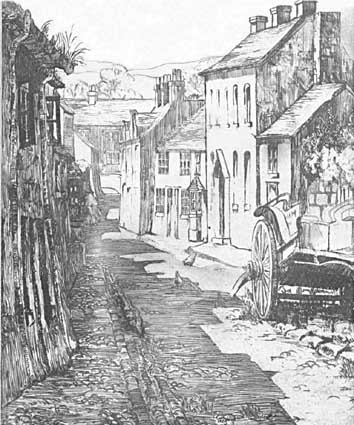 A lucky local resident spotted this sketch in a bargain box at a 'flea market' in Abergavenny some years back - and purchased it for £1. "As soon as I saw it I knew it was Ultra Pontem, or The Village," she told me. "I couldn't believe my luck!"

The drawing was promptly sent off for framing. Unfortunately, the artist's name was on the reverse of the work - and, with the passage of time, was forgotten.

When we received a copy of the sketch we showed it to Mr Roger Cucksey, Keeper of Art at Newport Museum and Art Gallery. He immediately suggested it was the work of a student from Newport Art College, probably from the late 1930s. (Students were regularly sent to Caerleon on assignments.) Furthermore, he said he detected the influence of Stanley Lewis who lectured at the College at this time. He suggested that the original picture should be brought into the Museum and removed from its frame to reveal the artist's name on the reverse. Fortunately, the owner agreed - and the artist turned out to be Lucie I Gibbons.

Now, here things become interesting… Roger Cucksey had, over the previous few months, been in regular contact with ex-lecturer Stanley Lewis. He had been give a photograph of some of the Art College's students from the 1930s, and Stanley was able to identify many of them. Amazingly, one of them was Lucie Gibbons!
Right: photgraph of Newport art college students with original annotation.
Left: the view of Ultra Pontem today. No more chickens in the roadway, no cart, but most of the buildings remain…