Iron forge at Caerleon
On 25 June I continued my trip in the afternoon in the company of two Quakers, Mr Roberts and Mr Williams, to Caerleon, which means a town for a Roman legion. It is located eight miles from the Severn on a navigable river. Mr Roberts has recently built a forge with three hearths, a little way from the town. We went to see it, and it is shown in drawing no. 153.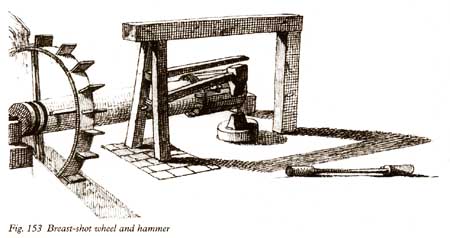 The frame of the hammer was built of brick. The breast-shot wheels for the bellows and hammer and their buckets were designed according to Spanish or Biscayan practice. Nevertheless, the head of water here is high enough to permit the use of over-shot wheels, but they would not be more advantageous in this case when the wheels run at high speed, because it is more difficult for the water to escape from the deep buckets that one must employ on over-shot wheels, than to leave the shallow and open buckets on a breast-shot wheel.
The three hearths were divided in such a way that two were used for the melting of the iron and called finery hearths, while the third, on the other hand, was only used for forging the bars and called a chafery hearth.
The finery hearths are made of cast-iron slabs, 2 feet long, 15 inches wide and 6 inches to 6½ inches deep below the tuyere, which was forged of wrought-iron.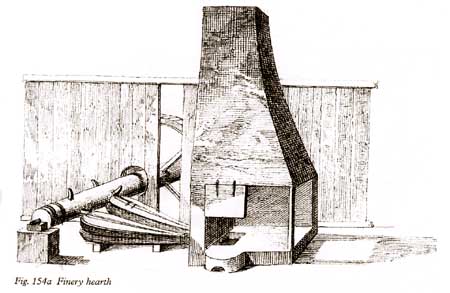 The chafery is larger across, so that it is possible to place in it, side by side, four lumps of iron as they come from the finery hearths, drawn out in the middle to a length of 1 foot, 6 inches or 2 feet as shown in the attached drawing no. 154a [sic.] [see footnote b]. Across the end of the chafery hearth there is an upright slab of iron, which serves to keep the coal together and heaped up high [Fig. 154b] [sic.].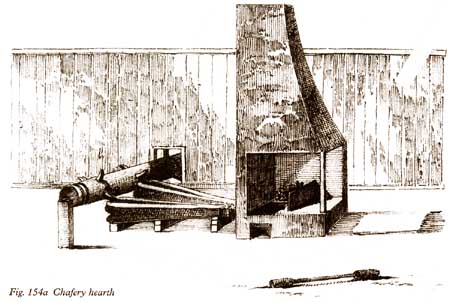 This gives a more intense heat. Both kinds of hearths use nothing but charcoal, which mostly is made in this locality from oak, lime, beech, etc. Sometimes birch and other deciduous trees are mixed in. Charcoal is very expensive here, because in the neighbourhood, for several miles around, there are no other trees than those planted in the hedges surrounding the fields and meadows.
Calculation of the price of the iron