Situated above the Bulmore Road overlooking the meandering River Usk, designed in the style of a French chateau, Clawdd must be one of the finest houses of its type in the area.
The above postcard view of Clawdd was posted on December 24th 1907 - just a few months after the house was completed. The deeds dated 22 May 1907 show that the land (19 acres) was leased to Mrs Anne Evelyn Lyne, 'the wife of Ernest Lewis Lyne' a land agent. The thirty pounds a year ground rent was paid to the 'Charity called The Church Lands in the Parish of Christchurch'. One of the conditions was that at least one thousand five hundred pounds was to be spent erecting the house and stables - a large sum of money for those days. The deeds also stipulated that the property was to be painted inside every ten years and outside every five.
The 1901 census shows the Lyne family living at 'Bryn Gomer' Pontrhydron (nowadays north Cwmbran). However Johns' 1901 directory states that Ernest Lyne, JP, was living at 'Gwaun y ffynon', Caerleon. This was almost certainly 'Pollards Well'. According to local folklore the land was required for building the hospital, and Ernest Lyne was paid a large sum of money to vacate the property.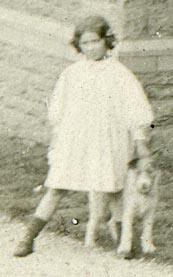 Anyway Clawdd was built for the Lyne family: Ernest Lewis Lyne (41yrs), his wife Anne Evelyn (38yrs), son Cecil Lewis (13yrs), daughter Nancy Violet (8yrs) and Alice Maud Lyne (48yrs) Ernest's sister. It is likely that the little girl with her dog is Nancy Violet Lyne, the lady could be her mother, indeed the above card was signed by Anne Lyne.
By the 1950s the house was owned by Cecil Lyne. He had served in both World Wars and had reached the rank of Colonel. He ran a chicken farm on the land with ten large chicken houses and won the 'Monmouthshire Best Lay Cup'. Later one of the chicken houses became the base for a local shooting club - the 'Newport Wildfowlers' - with a bar and large display of stuffed animals.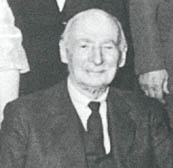 The Colonel (pictured right in 1974) has been described as a proper country gentleman. It is said that he spent most of his time in the room at the bottom of the house's round turret and that he even slept in there in his old army bed! When he died in 1979 the property was put up for sale. It was bought by Janet Hughes who had previously run the Copper Kettle in the High Street, Caerleon. And so Clawdd had a new lease of life - please follow this link.
We have heard that the Colonel wrote his memoirs and that a lady from Caerleon typed them up for him. Please let us know if you can help trace this document.