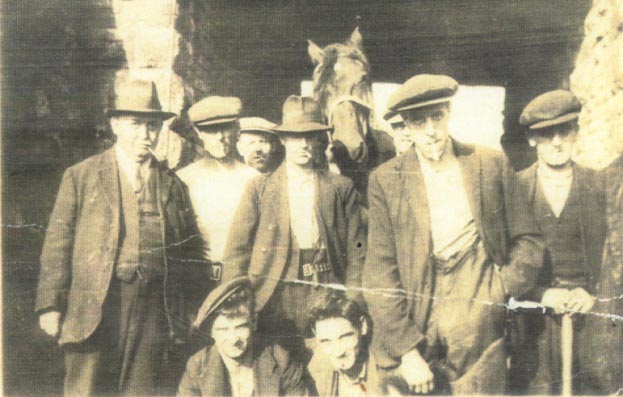 Photo 001
We were sent this picture by an ex-resident of Caerleon - in their own words a "Caerleonite ex-pat." It shows workers at the Caerleon Works. Interestingly it seems to have been taken the same time as other photos we have collected together from several different sources.
It would be rewarding to put names to the faces in these photos and if you can help please email us. We are off to a good start with this photo - several of the workers have been identified. On the left, wearing a trilby and smoking a pipe, is foreman Gilbert Stamp. Three of his sons are here: on the right with his hands on a shovel is John Stamp and bottom right is Bill Stamp. The tall figure with hand in pocket is 'Sholto Wallen'. Others are thought to include: Bryn Stamp, Hubert Davies, ? Vickery and ? Bergum.
You can browse through this series of photos by using the left and right arrows at the foot of the page. Hopefully the few names we already know may help jog memories and with your help we can fill in other pieces of this jigsaw puzzle...
Lyndon Watts has contacted us with the following message:
"I wonder how many can recall the tin plate factory on the Ponthir Road? I don't refer to its geographical position but to the primitive working conditions that menfolk were forced to endure. Although many years have now passed, it remains a re-occurring flashback witnessing my father, working bare-chested, removing ingots of red hot metal from a furnace and, with the aid of large industrial tongs, physically man-handling it to rollers to be reduced to thin sheets of tin. The heat was intense and sparks flew in every direction, often landing upon an unprotected chest. I remember too the bottles of cold tea, a dire necessity to replace the lost body fluid. All this after a long walk to reach the factory and the prospect of the returning journey home.
If I remember correctly there was no holiday pay for the one granted week and no sick pay if one was ill. It remained the responsibility of the individual to pay a few pence into a working men's club to qualify for ten shillings, just sufficient to pay the weekly rent. This also entitled children to attend a Christmas party at the Oddfellows Hall in Mill Street. IS THIS WHAT THEY CALL THE GOOD OLD DAYS?"