An attractive watercolour of Ye Olde Bull Inn, Cross Street and the War Memorial signed 'MFS'. It seems probable that MFS is Mary Florence Stow - see her sketch of High Street, below, signed MF Stow and dated 1921, also the watercolour "Crooked Chimneys" from Newport Museum's collection.
We have been contacted by a neighbour of one of Mary's daughters who has kindly sent us a photo of Mary: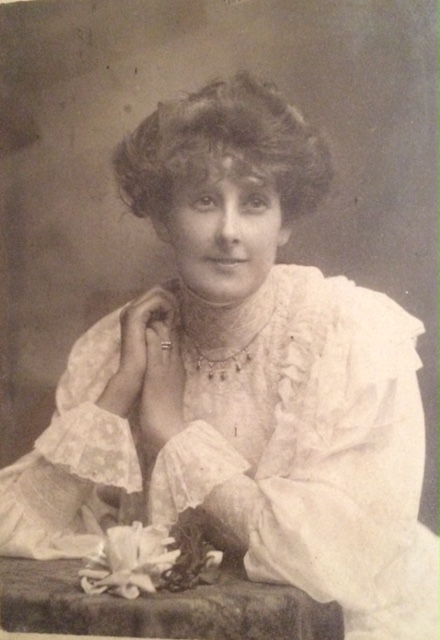 Mary Florence Stow (1878-1966)
Mary Florence Snewin was born in Littlehampton, Sussex, in 1878. She taught art in Worthing for a time before marrying George Stow of Shoreham in 1904. They moved to Newport in 1911, living at Caerleon Road, Llanthewy Road and Fields Park Road, and eventually to Maidenhead, Berks, in 1937.
As well as street scenes, Mary's watercolour subjects included interiors, flowers and portraits. One of Mary's grandaughters, Ann, remembers her grandmother's Maidenhead garden studio in the 1940s and 50s, where she saw her work mainly with linocuts.
Ann also recalls that her grandmother usually went under the name 'Florence' rather than 'Mary'.