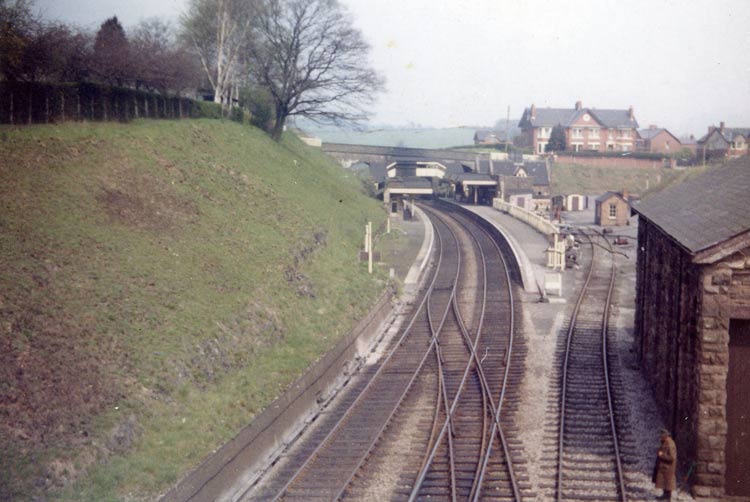 This is a view of Caerleon Station, taken from The Lodge Road bridge in April 1962 shortly before station closure on 30th April. The building on the right was the goods shed, this building is still standing, although now with a different use. The figure standing alongside the goods shed was the lookout man for the local gangers who must have been working nearby, notice no Hi-Viz jacket or hard hat, health and safety regs had not reached us then.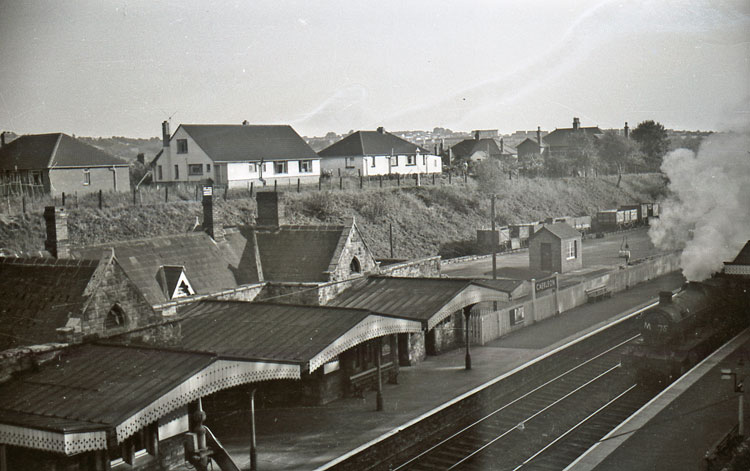 An up express passes through the station hauled by a "Hall Class" locomotive. Notice the wagons in the goods yard in the background, this is where local business people received and distributed their wares, like Jack Harris, one of the local coal merchants. The line of posts on top of the embankment mark the line of the footpath from the station approach to Lodge Road, around 1961.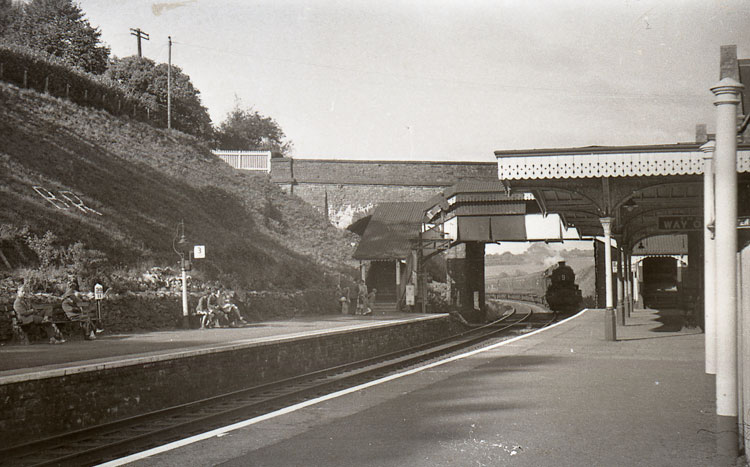 A down express approaches the station, whilst a number of passengers await the arrival of the next valley local train to Blaenavon on the upside platform, around 1961.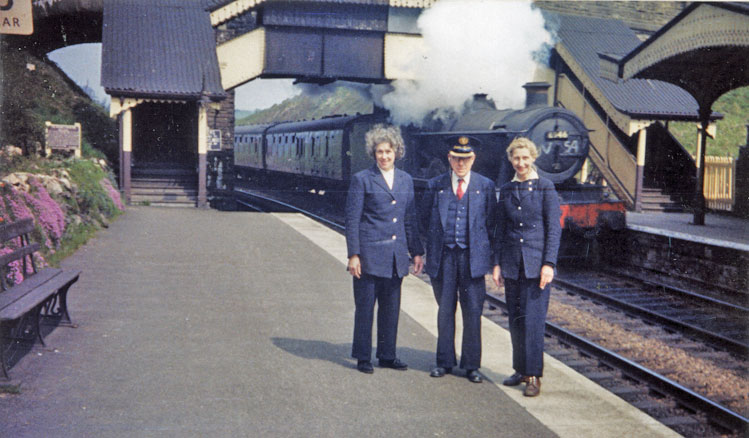 April 1962, shortly before closure, and the staff pose for posterity. Passing behind them is a Manchester to Plymouth train hauled by "Hall Class" loco No 6946 Heatherden Hall. The Station Master was Mr Tom Forster who is flanked by his two lady porters, on the left Mrs Williams, and on the right is Tina (a Dutch lady who's full name was Martina van de Mere).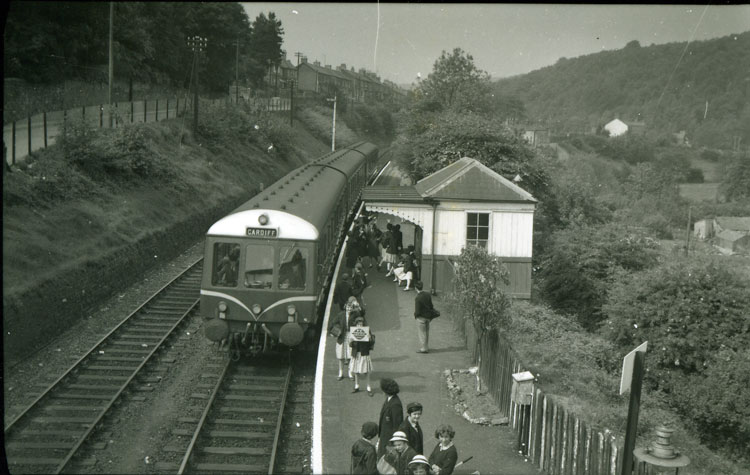 It's time to go home. The train now arriving in Abersychan station down platform is the 3.30pm Blaenavon to Cardiff train, calling at all stations and halts. The photograph is taken from the footbridge, the platforms being offset, the up platform and main station building are behind the photographer. The train deposited us back in Caerleon about 4.30 pm.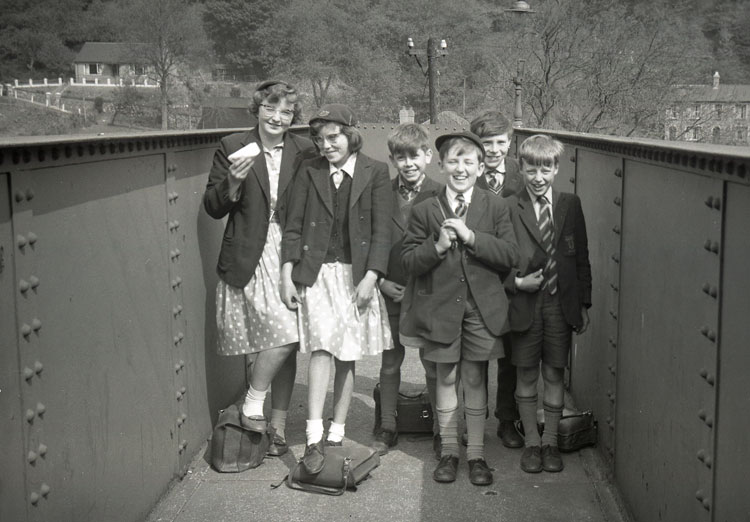 Six of the homeward bound pupils pose on the station footbridge. The girl on the left is Viv Asquith, who was a Caerleon girl, the lads are Freddie Bishop, John Rees, Peter Nicholas and Kevin Slade. Probably taken around 1961.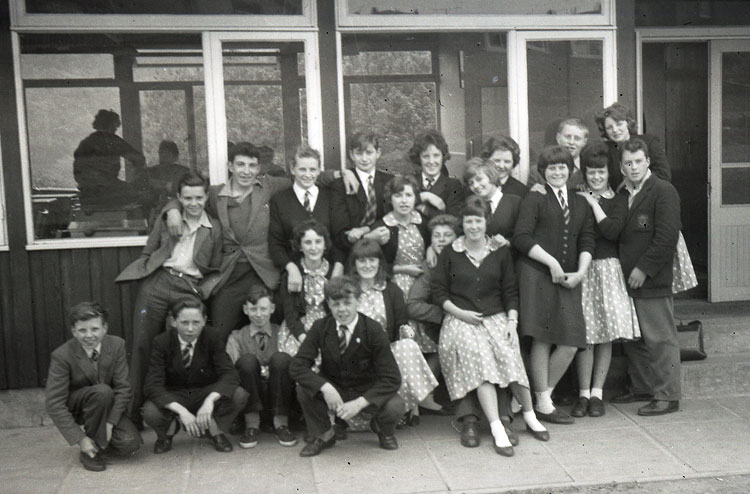 Class 4D of Abersychan Grammar-Tech, taken in May 1961. Mike is second from left in the back row and the only Caerleon resident in shot, although Martin Williams, first on left of back row, later lived somewhere up the Lodge.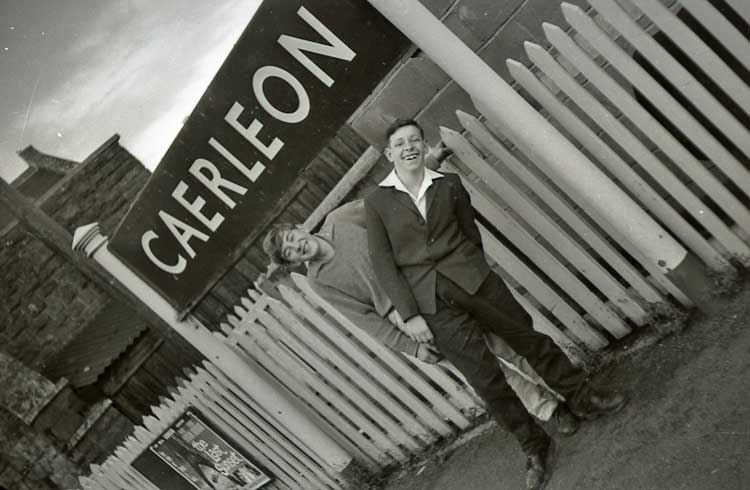 Geoff Lloyd and Glyn Teague pose for a crazy angle shot, around 1961.