This tower stood on the river bank in Ultra Pontem. (In fact the two figures are just climbing up from the Usk.) It was situated adjacent to the old wooden bridge which once crossed the river here. The remains of the tower were still in place in 1928 when Atwood Thorne published "A Popular Guide to Caerleon". However it was removed in 1929 a year before W A Morris wrote his "Guide to Caerlleon-on-Usk" - he described the demolition as an act of "vandalism and ignorance".
On the section of the 1901 OS Map of Caerleon below, the tower is marked in red: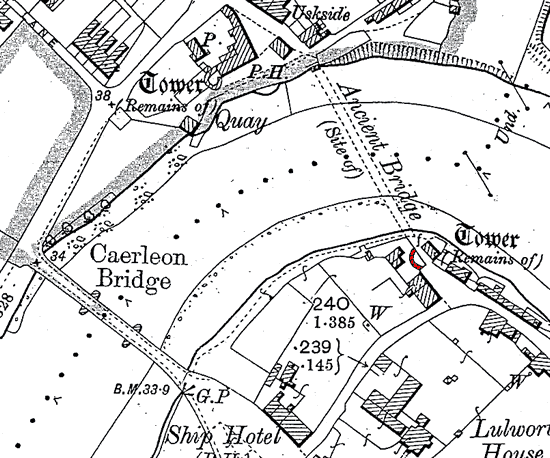 Judging by the curvature of the part of the tower remaining it would appear that the road to the old wooden bridge originally passed through its centre. It almost certainly was not Roman but medieval, and its purpose would have been the defence of the southern end of the bridge.
Coxe's Tour of Monmouthshire (1801) contains a view of this tower. This is reproduced below: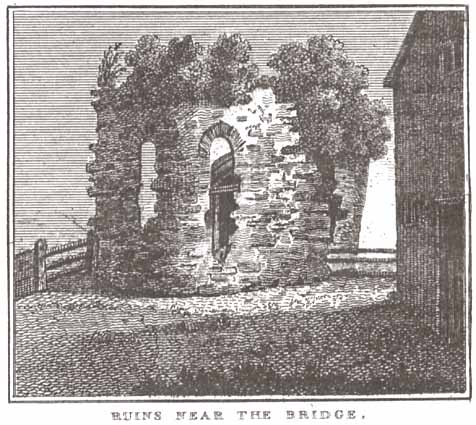 Here I think we are looking from the other side of the tower through the windows which can be seen in Loxton's sketch.
Coxe wrote the following about the remains:
Close to the southern extremity of the bridge, in the district sometimes called the village of Caerleon, and sometimes distinguished by the Roman appellation of Ultra Pontem, are the ruins of an ancient fort, intended for the purpose of guarding the passage over the river. Grose has given an engraving as it existed in 1778, and from the roundness of the arches and the mode of construction, concludes that it was a Roman edifice; but the dilapidated state of the work renders it difficult to ascertain its exact form or era.
I think he was mistaken when he associated this tower with the one depicted in 1778 by Grose (follow this link to see the print). I believe that tower was near the Hanbury arms and had fallen down by the time Coxe made his visit.
Here's another view of the 'Ultra Pontem' tower from an 1803 publication (source not known):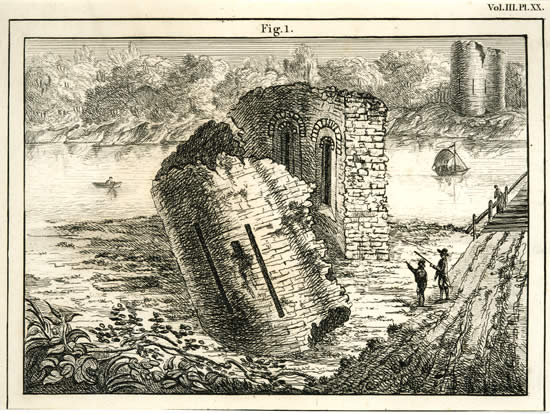 We just about get a glimpse of the tower in this photo below... could do with a much better one!
Do you have a photograph of the tower in Ultra Pontem or a painting or print? Can you find the date of the original article in the Bristol Observer? Any comments about the other views of Caerleon? Or do you have any other interesting old pictures of Caerleon we could feature? Please contact us via the link at the foot of the page.