Charles Williams and the Caerleon Charity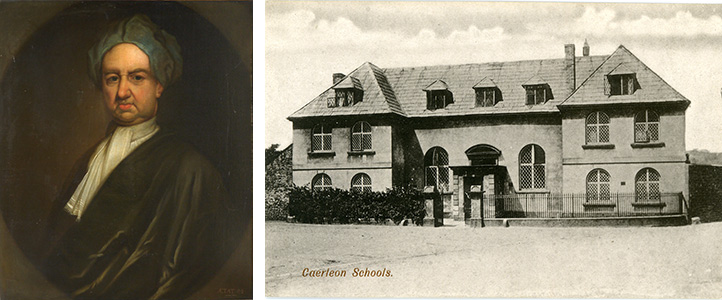 Portrait of Charles Williams and the school built in Caerleon
Facts
Charles Williams was born in Caerleon in 1633 into a well to do family. At some time he moved to London and by the time he died in 1720, age 87, he had become a very wealthy man.
His will revealed that he had bequeathed seven thousand pounds for setting up a trust fund to assist Caerleon and its inhabitants; three thousand pounds for improvements to be made to the church and the roads leading to it, the rest to be spent on the education of the children of Caerleon.
In 1724 a school was built at a cost of £500, the remaining money (as instructed in the will) was invested mainly in land. The original school is still in use. The profits and rents from the investment being used for the running of the school. Due to the good investments made, the fund has grown substantially.
The first school took in 30 pupils, 20 boys and 10 girls. Through the two centuries that have passed since, numerous local children have benefitted from what is now known as the Charles Williams Schools Charity or the Caerleon Charity.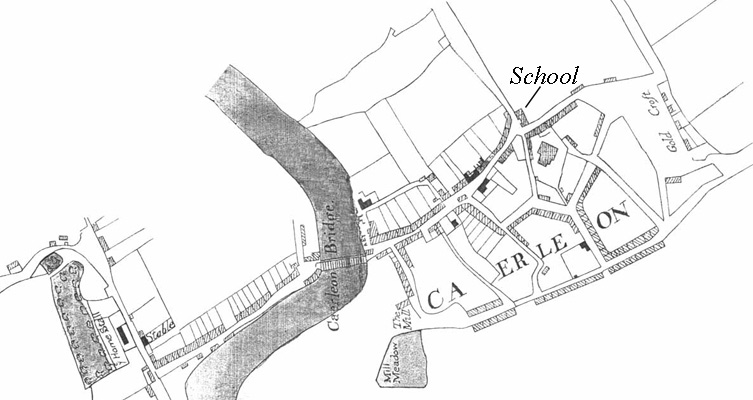 Plan of caerleon 1752, showing the location of the school
Legend or Truth
Outlined above are the bare facts. Other parts of "The Charles Williams Story" are less certain, though maybe more engaging…
The legend is that Charles Williams fought a duel with his cousin and killed him. He fled to Turkey where as a fig merchant he amassed a fortune. His family and friends back home persuaded Queen Anne to grant him a pardon and he returned to London a rich man.
Research
In 1978 Eija Kennerley wrote an interesting article titled "Charles Williams of Caerleon – Legend or Truth?" This is very detailed and well researched. Follow this link for the full text.
Roland Ward, a former trustee of the charity, has written two books on the subject. His first, published in 2016, is titled "Charles Williams of Carlyon His Life and His Legacy". This was followed in 2021 by "Charles Williams of Carlyon His Life and Legend". Roland is continuing his research and maintains a website with a wealth of information and a BLOG: Follow this link.
Roland has teamed up with Dave Powell to produce 5 videos about Charles Williams: Follow this link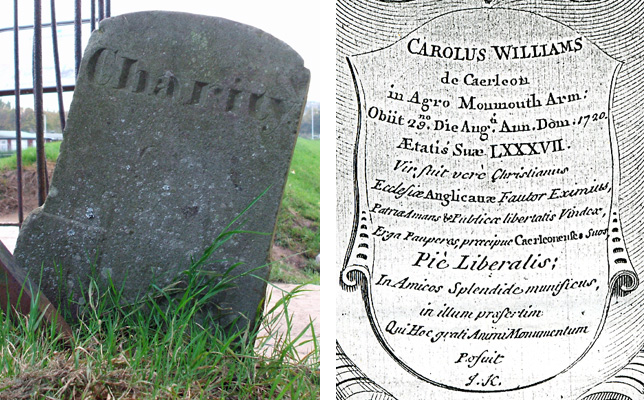 School boundary marker and the enscription on Charles Williams's memorial
plaque in Westminster Abbey erected by John Hanbury
Translation of the plaque text:
"Charles Williams Esquire of Caerleon, in the County of Monmouth, died the 29th of August 1720, aged 87. He was truly a Christian, a strenuous defender of the Church of England, a lover of his country and a champion of the freed people. He looked after the poor, especially his fellow citizens of Caerleon. Pious and generous to his friends, splendidly munificent, especially to him who has erected this monument of gratitude. J. H."