Excavation of the Amphitheatre - Intro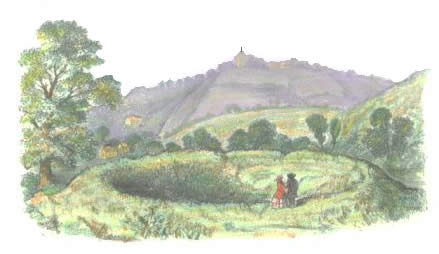 The remains of some 75 amphitheatres have been located in widely scattered areas of the Roman Empire. The amphitheatre in Caerleon is the best preserved example in Britain.
Known probably since the Middle Ages as King Arthur's Round Table, until 1926 it was a circular earthwork enclosing a deep hollow.
The first excavations were carried out by locals who dug trenches into the structure to recover stone for building purposes. The huge volume of Roman stone used in buildings in the village is evidence of such quarrying. Recycling started centuries ago!
The Liverpool Committee for Excavation and Research in Wales and the Marches carried out the first formal excavations in 1909. They made some exciting discoveries and found that the remains were well preserved.
In 1926, thanks to the sponsorship of the Daily Mail, work began to uncover the amphitheatre by removing 30 000 tons of soil.
Many of the exciting finds can be seen in the local Roman Legion Museum... one of the most intriguing discoveries was 'The Caerleon Curse'.