The Caerleon Curse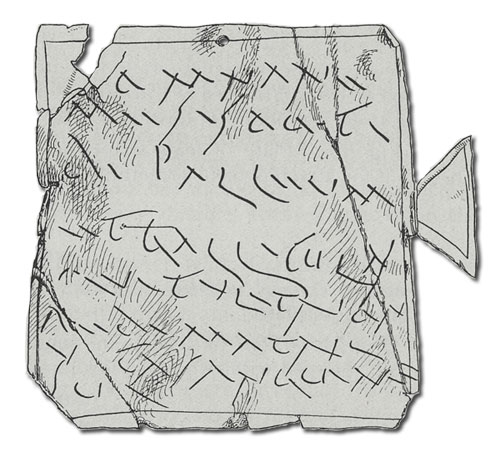 During excavations of Caerleon's Amphitheatre in 1926 this strange lead tablet was discovered in the debris of the northern half of the arena. Approximately 10 cm square, it was pierced with two nail holes for attachment. The inscription reads:
DONNA NII
MIISIS DO TI
BI PALLIIVM
IIT GALLICVLAS
QVI TVLIT NON
REDIMAT N**
***** SANGVINII
SVA
'Lady Nemesis, I give thee a cloak and a pair of boots; let him who took them not redeem them (unless) with his own blood.'
It seems that the writer is saying to the goddess Nemesis: 'Have my cloak and boots; only give them to the thief who took them if he's killed or wounded.'
The writer may not have known who stole his cloak and boots. Or maybe he does not have the courage to recover his own property, so he asks for the goddess to arrange for the death or injury of the thief in return for his (stolen) possessions - this salves his conscience. In either case, he has done his best!
Unfortunately we know nothing of the writer - presumably he was a gladiator or a soldier; nor do we know what fate befell the thief. As to how the tablet came to be there, it is thought that the rectangular enclosure just outside the main entrance to the amphitheatre contained a shrine to Nemesis - a fitting place to nail the curse!
What do we know about the goddess Nemesis?
Nemesis was the goddess of punishment. Her name can be translated as "Righteous Anger". To execute her commands she had three attendants, Dike (justice), Poena (punishment), and Erinys (vengeance). She was considered to control human behaviour by taking luck away from the unworthy, and tracking every wrong to its doer. Roman judges placed a figure of her beside their benches.