Caerleon Amphitheatre - The 1909 / 1910 Digs
Between 1908 and 1910 the Liverpool Committee for Research in Wales and the Marches carried out excavations on various sites across Caerleon. In 1909 they turned their attention to the amphitheatre. The work was carried out in co-operation with the Caerleon and Monmouthshire Antiquarian Association under the supervision of Mr. F. King and Mr. C. J. Fox.
Before digging commenced on the amphitheatre site there was no sign of any stonework and it was not known how elaborate the structure was – or indeed if it was just an earthen construction.
Excavations on the southern side of the amphitheatre revealed that the outside wall was nearly 2m thick with heavy buttresses.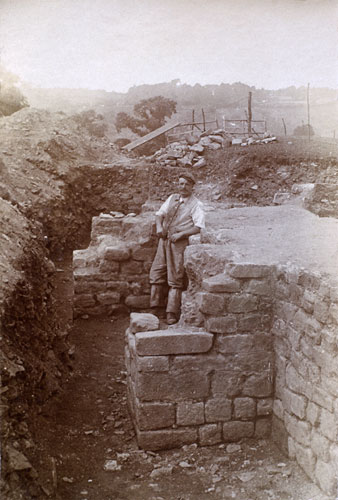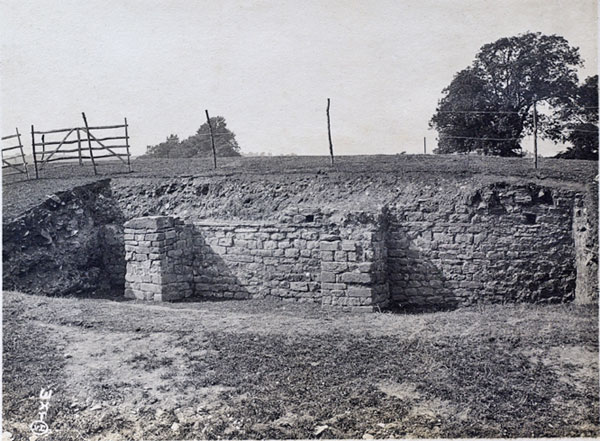 The arena wall (inside wall) was found to have been "much plundered" but was estimated to have originally been between 2 and 3 metres high.
The distance between the outside wall and the arena wall was approximately 11m, and this was filled with an earthen bank which, it was thought, supported wooden seats.
The southern entrance, which may have been vaulted, was about 3m wide between massively constructed jambs built of freestone blocks over a metre in length.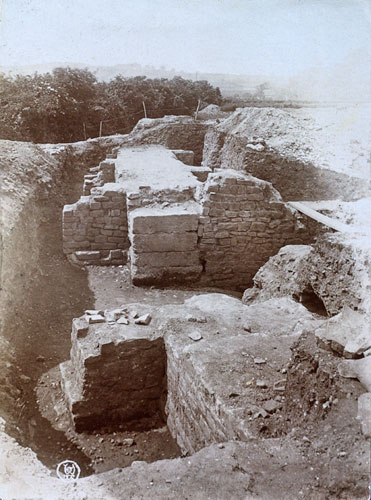 A trench was dug across the arena. The floor was found to consist of sand some 50cm deep on top of a layer of river cobbles.
The whole structure was found to be elliptical - the longer axis, between outside walls, being about 85m and the shorter one about 70m. The matching dimensions of the arena were about 59m by 43m.
The stone pictured below was found in the arena wall. It recorded the cohort responsible for the construction of that section.
The masonry was found to be so strong it was concluded that the whole structure could be excavated and left uncovered. (Not like the remains at Silchester which crumbled within two years of being exposed.)
NOTE
Two of the above photos appear in ARCHAEOLOGIA CAMBRENSIS Vol XIII, 1913. The photographer is acknowledged as Mr. W. H. Thomas.
Archie Miles contacted us to say he has an old photo album which, among many other photos, contains views of Caerleon. The album was the work of no other than the above mentioned William Henry Thomas. The photos on this page are from that album. There are photos of the other 1908 - 1910 excavations and some great views around Caerleon in the collection. See this page.